In the 1980's, my boyfriend and I were extremely enthusiastic new residents of Greenwich Village. We immediately signed up for a walking tour and joined local conservation groups. The head of one of them shared his philosophy: When you live in the suburbs, it's natural to do gardening; If you live in the city, your yard work consists of gathering, writing letters, and attending hearings to keep the invasive species at bay.
We have taken this thought to heart. How valiantly we campaigned for a simple green park on the banks of the then derelict Hudson River. How hard we fought against greedy development plans and stupid municipal ideas like building a permanent prison boat on the Hudson's banks. We attended community board meetings, worked at street fairs, got Pete Seeger to play a benefit concert. On a long, muggy Saturday, a small group of us volunteers cleaned up a mile-long piece of ancient garbage stuck in the Hudson's bulkhead.
It was then that I was fresh out of Colombia with an MFA in non-fiction and starting a career as a freelance writer. I soon specialized in urban issues metropolis and other magazines. And then I took it a step further and started writing for The villager weekly newspaper and more recently The village sun Website.
I've written stinging opinion pieces about the pro-developer bias at various city authorities. I've written features and news articles. I sat cross-legged on the studio floor with the concerned manager of Integral Yoga when they lost the health food store that was their anchor tenant. I may be the only non-inspector who has toured the basement meat rooms at Western Beef. When popular neighborhood spots like Tortilla Flats and the Cornelia Street Cafe closed too much after a rent increase, I wrote the autopsy.
Writing itself is also an act of preservation.
I also amassed almost a hundred columns in the process. I was enthralled by the spaciousness and possibilities of the columns, as well as the way they could express the intersection between the personal and the societal: trying to make sense of the 2004 presidential election while telling my sons good-versus-evil-good- read anti-evil stories; rethinking norms about human consumption when our bathroom was remodeled and we went a year without a shower; etc.
Columns brought me closer to the writing I secretly wanted to do most: fiction. As a new villager, I was fortunate to find a life-changing fiction masterclass at The Writers Studio, whose classroom is a tenement living room a few blocks from home. I slowly learned my new craft, starting with two-page assignments and ending with short stories. I fantasized about a life where I could call freelancing my main job.
In the meantime, the children came along. They went to school. The village got richer. It was becoming increasingly difficult for small bands of grassroots organizers to fend off the increasingly well-funded and well-connected developers. I shifted my volunteer energy to the children's schools.
Then I decided it was time to do the thing: write a novel. Of course it would be a tribute to my beautiful but increasingly gentrification-ravaged village. Slowly, haltingly, I developed what was necessary slack. I put together a series of Village characters, in two senses of the word: a tour guide and her tourists, a yuppie real estate agent, a local reporter, an elderly pioneer of the downtown theater scene. I thought of local tragedies – yellow fever epidemics, the Triangle Shirtwaist Fire, 9/11 – and thought up a new one, this time in Washington Square, so the stakes would be high enough to justify the 300-page or so novel. My story evolved into a story of mortality, friendship and survival, with this quote from Grace Paley in mind: "The real question is – how are we going to live our lives?" All this first-hand experience and journalism gives me one good, solid foundation given.
A novel is an exploration of characters, places, and themes, but it's also something you do like any other craft, by getting it wrong a few times at first. My non-fiction training served me poorly here. I've been a teacher at The Writers Studio for many years now (so long that I'm now helping train the next generation of teachers), and I tell my students that fiction doesn't work like non-fiction, maybe even the opposite, which comes from a emerge from the other hemisphere. That's a lesson many of us novelists have a long time to learn—not just professional writers like me, but anyone with a K-12 education. We're used to getting good grades for explaining everything upfront and connecting all the dots for the reader.
Fiction derives its power in other, less tangible ways: a subtle interplay between what is withheld and what is revealed, and when; Language that does the dual job of creating the characters' worlds and conveying the underlying mood. In fiction you have to step out of the way of the story and let it unfold and give the reader space to do some of the work.
While I was thinking how to do all this, I made myself like a journalist. I spoke to the police station (who got a little nervous when I started asking about explosives). I stowed my bike on the S-Bahn and rode through Mamaroneck, a town featured in the story but which I had never visited. My happiest breakthrough came in the dark days after Superstorm Sandy in 2012, I find it funny. My story had become imperious by this point, demanding that I write convincingly about a fictional blackout. Because I managed to miss all the big ones in New York, I spent that week taking notes like crazy.
In writing I try to bear witness to a rapidly declining way of life.
One of the novel's storylines traces the complicated relationship between my protagonist, Becca, and her nemesis, Melora, who share a back property wall at the start of the novel but little else. Becca, who makes a living giving tours of the city, is stuck in a fifth floor apartment because she has never lived anywhere else. Melora came to the village in the 1980's and occupies a fully renovated 19th century brick town house on the next block.
My experiences differ from those of both. We only stayed in two converted turn-of-the-century warehouses, both pretty much on the wrong side of the tracks, the tracks being a three-block stretch of the High Line below Gansevoort Street that was later demolished (despite our desperate attempts in the 90s to save it). We were the only residential building on our block, with a meat smokehouse, building utility, and SRO hotel for neighbors.
Thanks to another esteemed Village educational institution, I created Becca and Melora's domiciles, which happen to not exist in the real Village, but might. In the '90s, our two sons each attended West Village Nursery School for three years, a hotbed of lifelong friendships between children and parents alike. The closer we got to the edge Fin de siècle, the gap between the rich and the have-not grew even more alarming. For an after-school playmeet, I'd trudge my toddler and a folded stroller up the dark-tiled stairs into the kind of apartment where the kitchen sink doubles as the bathtub. Another day we were — I'm not kidding — thrown into a chauffeur-driven car and whisked a few blocks away to a perfectly restored townhouse occupied by a single family, complete with elevator and live-in nanny.
The rental houses have not disappeared. But now, with the Whitney Museum, High Line, and Little Island nearby, the West Village feels like the incandescent center of the universe. Luxury new construction surrounds us. Co-op prices have increased tenfold. We couldn't believe how lucky we were to live in the nonconformist, low-rise village with its winding streets, rich literary and maritime history, theaters and music. Now Hermès is in Gansevoort's meat market and Tiffany's has a popup on West Fourth.
Sometimes I feel guilty for turning to personal writing projects and leaving urban gardening to others. I worry that the tradition of local activism is being lost. The newcomers have all sunk such fortunes in their homes that they are skeptical about their investment and not necessarily attuned to protecting what remains of the 19th-century spirit and structure that drew them to the village in the first place.
But then I realize that writing itself is also an act of preservation. In writing I try to bear witness to a rapidly declining way of life. I honor the forgotten tenement dwellers who found a way to survive. Sometimes I imagine meeting Becca in Abingdon Square. I bend down to pet Carny, their ancient bassett hound, and strike up a conversation like the villagers do. Despite our differences, I like to think Becca would welcome me as one countryman.
___________________________________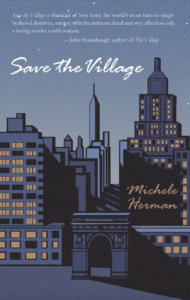 save the village by Michele Herman is available through Regal House Publishing.